Impact Reports
The Center is building a thriving energy community at Tuck, Dartmouth, and beyond, as we work to inspire and shape tomorrow's leaders in energy while engaging today's energy community. We believe that regardless of industry, tomorrow's wise, decisive leaders will need to make informed energy, climate change, and sustainability decisions throughout their careers.
Review our impact reports to learn more about how Revers creates opportunities for all stages of the MBA journey through programming that connects students with a network of global business leaders, supports research and thought leadership, and offers a distinctive blend of courses and programs devoted to the energy ecosystem.

2021 Annual Impact Report
During a time of global uncertainty and disruption, Tuck students proved to be resilient and embraced a variety of virtual learning opportunities. The Center kicked off the last academic year with a pre-term "trip" for the annual San Francisco Ecosystem Deep Dive (EDD) in partnership with the Center for Entrepreneurship. Three tracks consisting of Energy, Cleantech, and Entrepreneurship brought together 50 students in virtual groups from around the world to explore companies such as Cypress Creek Renewables, Elemental Excelerator, Calpine, Volta, Utility API, and 3degrees from around the Bay Area.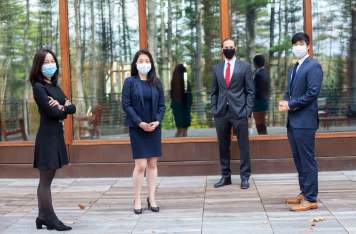 In preparation for the 2020 election, the Center hosted Colin Hayes, Energy Lobbyist, Lot Sixteen for a bipartisan discussion on how energy topics would influence the debate stage. Energy policy has always been a substantial factor in U.S. politics. It has evolved considerably over the years and, although it was overshadowed by COVID-19 during the debates, still factors in conversation around topics like climate change, energy security, or large-scale infrastructure innovation. These topics were also central to a discussion led by Jameela Pedicini, Executive Director of Climate Finance Initiatives, Bloomberg L.P. in September.
Among other highlights, a team of students virtually attended University of Texas McCombs School of Business National Energy Finance Challenge, taking second place, and placed fourth at both the Ross Renewable Energy and the Duke Energy in Emerging Markets case competitions. The Center also hosted the first annual Tuck Renewable Energy Finance Challenge. We are thankful for our generous partners who contributed to case development, funded prizes, and served as judges for the final competition.
View the 2021 Annual Impact Report

Past Annual Impact Reports
---
---
---